You are here: Home » Tours
---
Tours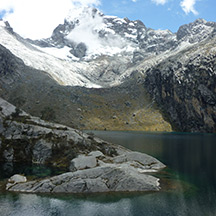 CHURUP LAKE
Hiking Day
Time:
Full Day
Grade:
Medium Hard
Altitude:
4,450m.
Churup Lake the most beautiful lake in the Andes", but Lake Churup is genuinely felt by many to be a real contender. This clear glacial lagoon high in the countryside Outside Huaraz is not only beautiful in itself but from the shores you also have Stunning views of the surrounding mountains of the Cordillera Blanca.
Churup lake the most beautiful lake in the Andes with spectacular mountain views Lake Churup itself lies just below the summit of Mount Churup at 4450m so it's a good, testing climb but an easy descent and because Churup is within such easy reach of Huaraz, it makes a perfect acclimatisation day-trek for anyone getting ready for longer treks in in the cordillera blanca or the Huayhuash mountain range.
In the morning We will pick you up at your hotel in Huaraz then drive After about an hour's drive we will arrive in the village of Pitec 3,750m which is our trailhead. It's a fairly steep ascent but all on well-established trails and there is nothing technical to worry about and the last part is rock climb it will take about three hours to churup lake
After take pictures we will go down for 2 hours. head back to Pitec where our transportation will be waiting to take us back to Huaraz, where we'll arrive in the late afternoon.
---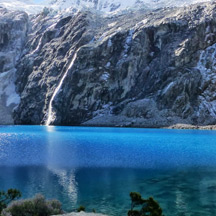 LAKE 69
Hiking Day
Time:
Full Day
Grade:
Medium Hard
Altitude:
4,600m.
69 lake – lake 69 in the Cordillera Blanca is a large aquamarine lake at 4600m above sea level at the back of the Demanda valley, the continuation of the Llanganuco Gorge .This is the most popular day trek in the Huascaran National Park.
To get to Cebollapampa from Huaraz drive for 2 hours
To start the 69 trek you will need to start walking from Cebollapampa (3900m). Cebollapampa for those spanish speakers amongst us means "field of onions". Don't be surprised not to see any onions, the Quechua speakers (Quechuahablantes) here use Cebollapampa for a yellow flower up to 2″ in diameter that stays level with the ground. You may see plenty of these flowers depending at what time of year you visit.
Along the way you will see the llanganuco lakes ( chinancocha and orconcocha lakes ) the beautiful mountain peaks Huando , Pisco , Cacharaju, Yanapaccha, Chopicalqui, Huascaran North and South.
The trek will take you a minimum of 5 hours. If it is rainy season an early start is recommended, as rains often start 2-3pm
---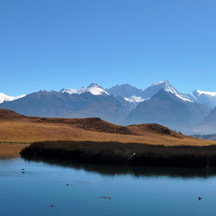 WILLCACOCHA LAKE
Hiking Day
Time:
Half Day
Grade:
Medium Hard
Altitude:
--
Wilkacocha lake at 3,700m. is located south of Huaraz beautiful lake in the Cordillera Negra Mountain Range, the hiking this place take half day is good for get acclimatization for beginners , along the trail we going to see the local quechua people , farmers people and from the wilcacocha lake we enjoy the beautiful mountains views of the Cordillera Blanca.
in the morning we will pick up you at your hotel then we will drive for 30 minutes to santa cruz bridge from here we will go up for about 3 hours after the take pictures we will start descending for the same trail to santa cruz bridge where our car will be waiting to take back to Huaraz
---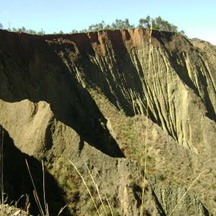 PUKAVENTANA HIKE
half Day
Time:
Full Day
Grade:
Medium Hard
Altitude:
4,450m.
---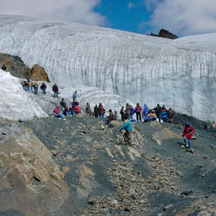 PASTORURI GLACIAR
Full Day
Time:
Full Day
Grade:
Medium Hard
Altitude:
5000m.
---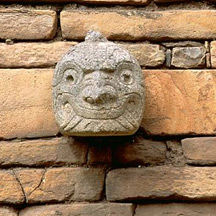 CHAVIN RUINS
Bus Tour
Time:
Full Day
Grade:
Easy
Altitude:
--